Advocating for Urology: A Resident's Perspective
Let me be the first to admit that I don't know much about advocacy. As a urology resident in the thick of training, I spend my days learning about surgery, not politics. The mahogany and marble halls of Congress seem far removed from the sterile, tile halls of the hospital that I've come to consider as my second home. So when I attended the Urology Joint Advocacy Conference in Washington, D.C. this past February, I wasn't quite sure what to expect.
The topics on the conference agenda were as numerous as they were varied, running the gamut from graduate medical education to screening guidelines to strategies in advocacy. One session, in particular, piqued my interest: a congressional panel on urologic research and men's health. Having grown up in an academic family (my parents are professors and run basic science laboratories) and pursued research myself, I have tremendous respect for the research process and appreciate its contributions to medicine and society. Still, I wasn't sure how advocacy related to research.
I soon learned the connection! Dr. Steven Kaplan, chair of the American Urological Association's Research Advocacy Committee, opened the session with a provocative remark, "Every business has to move forward to survive." "And we (urology) should think of ourselves as a business," he urged. In other industries, the key to progress — and survival — is innovation. From the scrappiest start-up to the most established corporation, every business needs a growth strategy, a way to keep up with the market's continually evolving needs. That makes investment in innovation essential. The equivalent in medicine is an investment in discovery — or, in a word, research.
In an area like men's health, which spans many specialties, research gives urologists the opportunity to make unique, distinguishing contributions. It can also empower urologists to take on a leadership role and pioneer improvements in the content and delivery of care. Dr. Gail Prins, a professor at the University of Illinois at Chicago, shared an example from her experience as the director of an andrology laboratory. Her research (and the subsequent development of sperm cryopreservation techniques) allows samples to be stored longer, an innovative breakthrough with direct impact on the treatment options for infertile couples.
Like innovation in other sectors, discovery in medicine can be profitable. This isn't often mentioned — I hadn't even considered it — but it makes research a potentially attractive investment for urologists in private practice and academia alike. Dr. David Albala described, for instance, building a research arm within a private practice in New York. While the endeavor was initially unprofitable due to up-front infrastructure costs, it soon began generating significant revenue through the patient volume it attracted. Part of the challenge of engaging more urologists in research will be convincing them not to be deterred by these early hurdles. "Once it's budget neutral, everyone in the practice will agree," Albala said.
Precisely because research is necessary to the sustainability and advancement of urology as a profession, advocacy is vital, too. This has several layers to it. Within the field, urologists need to share their experiences and empower each other to participate in research. With colleagues outside the field who see many of the same patients, urologists need to invest in education; as Dr. Jason Jameson, a urologist on the panel, said, "Educating primary care physicians is advocating for our own agenda." With legislators, it will be important to raise awareness of the impact that urologic research could have on the well-being of their communities, and to establish strategic collaborations that deliver that message effectively.
"We're up against the whiskey caucus," Brandon Leonard, a panelist representing the Men's Health Network, reminded the audience at one point. "You have to grab attention where you can."
As laughter rippled through the room, I marveled at how many collective years of urologic experience were gathered in one place. It occurred to me that all of the urologists there were giving up time in the operating room, time with their patients, and time with their families to participate. And I realized that, in addition to their clinical wisdom, they were in on an important secret: to make the greatest impact as a urologist, good surgical skills are not enough. A caring bedside manner is not enough. A tireless work ethic is not enough. All of these things are invaluable, but urologists also have to know how to represent their interests to parties outside of medicine. They have to advocate for their patients, because no one else will. And they have to advocate for their research, because no one else can.
After the conference ended, I returned to Boston and to the usual routines of residency. It's easy, surrounded by sick patients and challenging surgeries, to be content retreating into a cocoon of clinical duties. But I remind myself of the urgency I felt at the conference to become part of an outward-looking solution to learn how to advocate. That, too, takes practice. Perhaps the halls of Congress are not so dissimilar, then, from those of the hospital: we roam both of them hoping to make a difference, and hoping to learn from our experience so that each time we go back, we have something more to offer.
Rena Xu, MD is a resident physician at the Massachusetts General Hospital in Boston, MA.
---
AUA Research Advocacy Committee Pursues Urology Representation on NIH Advisory Boards
The AUA Research Advocacy Committee is a subcommittee of the AUA Research Council with the mission "To effectively champion for public, private and philanthropic support of urologic research by energizing and synergizing with all stakeholders." In order to succeed in its mission, the Committee developed and prioritized several key initiatives as part of the Research Council's 2016–2020 Research Strategic Plan.
Committee Chair Steven Kaplan, MD recently shared that "The Research Advocacy Committee has been focusing on developing and strengthening an infrastructure to increase and fund urologic research efforts. Many of our primary key initiatives over the past few months have been related to increasing urologic presence in various government and philanthropic funding agencies. This will dovetail with identifying appropriate urologic research champions within each of these groups to influence and increase funding."
Another key initiative that the Committee is currently working on is devoted to addressing the under-representation of urologic research expertise on relevant NIH institute advisory boards. These boards help to set the investment strategy of each institute and to make funding decisions. The AUA has a strong and longstanding relationship with the National Institute of Diabetes and Digestive and Kidney Diseases (NIDDK), and the Research Advocacy Committee is seeking to extend this type of quality relationship to other institutes relevant to urology within the NIH.
The Committee recently identified the following institutes whose advisory boards would benefit from representation of urologic research expertise: National Cancer Institute (NCI), National Institute on Aging (NIA), National Institute of Allergy and Infectious Diseases (NIAID), and National Institute of Environmental Health Sciences (NIEHS). The National Institute for Child Health and Development is a future target for advocacy.
Committee members are currently assessing each institute's process for populating their respective boards, preparing to articulate the need for urologic research expertise on each board, and working to identify and nominate qualified urology researchers for available positions.
The Research Advocacy Committee meets monthly and is chaired by Steven Kaplan, MD, with Toby Chai, MD serving as vice-chair. Other members include David Albala, MD; Darius Bagli, MD; Arthur L. Burnett, MD, MBA; Robert Carey, MD, PhD; George Christ, PhD; Michael Hsieh, MD; Vinata Lokeshwar, PhD; Gail Prins, PhD; and Stephen Zderic, MD.
Urology Researchers Making a Difference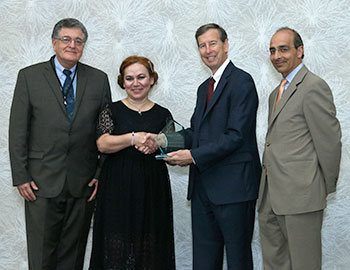 The Urology Care Foundation Distinguished Scholar Alumnus Awardee – Natasha Kyprianou, PhD
The Urology Care Foundation Distinguished Scholar Alumnus Award recognizes a former Urology Care Foundation Research Scholar for his/her accomplishments as a surgeon-scientist or researcher and mentor of early-career investigators. Congratulations to this year's awardee, Dr. Natasha Kyprianou!
Natasha Kyprianou, PhD holds the James F. Hardymon Chair in Urologic Research at the Markey Cancer Center at the University of Kentucky, where she is a Professor of Urology, Biochemistry, Pathology and Toxicology, and Cancer Biology. Her current research interests focus on 1) the signaling network operated by transforming growth factor-β (TGF-β) during prostate cancer progression and its cross-talk with the androgen/androgen receptor (AR) axis contributing to the emergence of castration-resistant prostate cancer (CRPC); 2) deregulation of apoptosis and epithelial-mesenchymal transition (EMT) leading to metastatic progression of prostate cancer and therapeutic resistance to antiandrogens and chemotherapy; and 3) pharmacological development of novel targeted molecular therapeutics for the treatment of advanced prostate, renal and urothelial cancer.
Dr. Kyprianou on being recognized for this award —
I was humbled beyond belief! I felt so honored by the totally unexpected recognition by the Urology Care Foundation. The realization that I share this distinct honor with such an elite group of investigators was humbling and amazing at the same time.
Briefly describe the work you did as a Urology Care Foundation Research Scholar and how your experiences enhanced your overall development as a research scientist.
As a research scholar, my project was to elucidate the mechanisms of apoptosis among the epithelial and stromal components of the prostate gland, contributing to benign prostate growth and clinical development of benign prostatic hyperplasia (BPH). I was a junior faculty member at the University of Maryland School of Medicine where I had a brilliant mentor, Urology Chair Dr. Stephen Jacobs. Dr. Jacobs was a charismatic urologic surgeon but also a talented physician-scientist who, during his earlier training, was the first to isolate and characterize fibroblast growth factor (FGF) in the prostate gland and BPH. The team had an amazing, creative dynamic; we used to discuss science all the time and developed scholarship programs within the Division of Urology to mentor bright medical students to embrace urologic research and train the urology residents to perform cutting-edge research in urologic diseases.
How did being a part of the Research Scholars Program influence where you are today?
Of course, that was a defining moment in my academic career as an independent investigator in urologic research. It's like you join this team where creative ideas and challenges become the drivers to make a difference in patients' lives. Being in the Research Scholars Program makes you feel like you belong to this sophisticated academic family — a nurturing forum that provided supreme guidance and support for my research pursuits and helped advance not only my professional goals, but also my work on multiple fronts (research, mentoring, advocacy, national and global service, fundraising) making an impact on urology and the world.
Describe your experience working with a mentor. What insights did you gain into research that improved your career?
Mentoring is a fundamental element in the training of scientists, physicians and physician-scientists in research and medicine and is critical to rendering the young talent competitive in the academic arena. Talent and a hard work ethic are important, but you need to have a devoted mentor who is there to support your growth without competing with you. I was extremely blessed to have Dr. Stephen Jacobs, a great human being with a brilliant mind, in the beginning of my academic career as an independent investigator. The most significant insight into research gained during that period was that, as scientists, we should take risks — it is part of the creative process to take risks. When everybody else is saying "it will not work!" you go after innovation, even if the idea seems crazy. Think outside of the box and consider the big picture that will impact patients.
Do you have any final thoughts about your experiences as a Research Scholar that would be helpful in highlighting this program for the urologic research community?
Being a Urology Care Foundation Research Scholar was a unique experience that channeled my scientific pursuits into the translational research arena in urology. It opened tremendous network interactions for research collaboration, created research training opportunities for residents, post-doctoral fellows and physician-scientists, and enabled building the foundation of a science program that will attract extramural funding from the National Institutes of Health, the Department of Defense and philanthropy.
Apart from my own gains from this award, the urologic community as a whole has greatly benefited from the Research Scholar Program; it is the best investment in human talent and intellect in the field of urology and must be sustained, nurtured and expanded.
---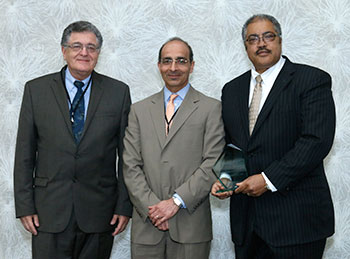 The Urology Care Foundation Distinguished Mentor Awardee – Arthur L. Burnett, MD, MBA
Congratulations to Dr. Arthur L. Burnett for being recognized as the AUA Urology Care Foundation 2016 Outstanding Mentor awardee! This award recognizes Dr. Burnett's impressive track record of mentoring numerous research scholars and fellows by providing an excellent research environment with superb training.
Arthur L. Burnett, MD, MBA is the Patrick C. Walsh Distinguished Professor of Urology and Director of the Basic Science Laboratory in Neurourology at the Johns Hopkins University School of Medicine. He is also the Director of the Sexual Medicine Fellowship Program at the Johns Hopkins Hospital and an Adjunct Professor with the University of the West Indies, Mona, Jamaica. Dr. Burnett's research interests are primarily focused on the science of the lower genitourinary tract, particularly sexual and voiding functions.
Why did you become a mentor?
I became a mentor because of my understanding behind the value of mentorship in the development of biomedical scientists, an awareness drawn from my own personal and professional development. I have certainly valued mentors in my life who have enabled me to progress and make contributions to the field and, based on this impact, I realized that I could offer mentorship to others with the aim that they could also make great accomplishments in life. I am particularly keen about my background as a minority individual who has had a very successful career and can now reciprocate. If I can provide guidance and support to all individuals and particularly those of minority backgrounds who can identify with me most easily, then I know I have honored my privileged position and bestowed abilities to the fullest extent. I believe there is no question that my interaction with young individuals early in their careers has major influence.
How would you characterize your experience working as a mentor?
My experience is most rewarding. Seeing young individuals who can benefit from my guidance and direction (based on my own life experiences) is rewarding in ways that are not easily matched elsewhere. Undoubtedly, I experience sheer joy in seeing the accomplishments of my mentees, particularly after they have persevered through hardships with my guidance and support.
What are some of the benefits and challenges about being a mentor? Have you identified any strategies to overcome those challenges?
The benefits simply relate to the delight in seeing individuals progress with my counseling and guidance. However, there is work involved in mentorship ranging from good communication to active roles in training and teaching. Personalities are not always immediately compatible, and styles to communicate and work together can differ. I believe the relationship is bi-directional such that the mentee also should be as involved and interactive in the relationship as I am as the mentor. Sometimes my mentees require a lot of encouragement and discussion as to how they should be involved as a mentee. I have found that mentees are still learning through life experiences and can benefit from being taught how to be a good mentee as well.
What advice would you give to individuals preparing to select their mentor or mentoring team?
My advice to individuals is to select a primary mentor but to also identify multiple mentors who may be able to provide them guidance in their careers. A primary mentor may be somebody who offers compatible interaction as well as a proven track record as a mentor. But a mentee should also recognize that every mentor may not necessarily align completely along all modes of strengths and limitations for that mentee. Having multiple mentors in various contexts, from career counselor, to research mentor, to a more personal confidante, all within a mentorship team may then best allow that mentee to excel.
In closing —
I consider this a tremendous honor that recognizes the importance of mentorship. I know that I have benefited from mentors who have enabled me to advance in my career such that I am able to reciprocate. This exchange whereby others have had successful careers under my mentorship has been most rewarding. It is good to know that mentored research programs exist, such as the AUA Urology Care Foundation award program that can catalyze and facilitate mentorship opportunities.
Research Funding Highlights
PCORI Funding Initiates the Neurogenic Bladder Research Group (NBRG)
Launched in 2010, the Patient-Centered Outcomes Research Institute (PCORI) strives to "promote research that addresses the questions and concerns most relevant to patients." PCORI provided more than $1 billion in funding during its first five years. However, PCORI funding is notoriously difficult to obtain mostly because it does not conform to traditional research proposal methods and requires key stakeholder participation at all steps of the research process. Stakeholders can include patients, caregivers, clinicians and other partners in the healthcare process (administrators, insurance companies, etc.).
Out of the 693 grants that have been awarded to date, there are very few urologic PCORI grants, and the bulk of those funded urology projects focus on prostate and bladder cancer detection strategies and survivorship. In contrast, neurogenic bladder (NGB) is an untapped research area yet is one of the most challenging issues in urology. NGB includes a number of urinary conditions in people who lack bladder control due to a brain, spinal cord or nerve problem. This nerve damage can be the result of diseases such as multiple sclerosis (MS), Parkinson's disease, diabetes, spinal cord injury or other causes. NGB is associated with a broad range of complications including bladder infections, urinary incontinence, bladder stones, autonomic dysreflexia and renal failure, in addition to the unknown impact on quality of life (QoL) related to bladder management. Importantly, and more specifically, exploring the QoL related to different management strategies for NGB has the potential to help urologists understand why a large proportion of patients who start on clean intermittent catheterization switch to chronic indwelling catheters over time.
To address the paucity of research in this field, a multi-institutional team from the Universities of Utah, Minnesota, Michigan, and Western University in Ontario, Canada — collectively called the Neurogenic Bladder Research Group (NBRG) — proposed a study to determine how neurogenic bladder management strategies impact quality of life in people with spinal cord injury. In 2015, PCORI funded this longitudinal observational study with $2.7 million over three years. Spinal cord injury is a chronic disorder with many support groups and advocacy networks and for these reasons, "stakeholders" were easy to identify and very motivated to help.
One of the first meetings the NBRG conducted was with patients and other research stakeholders. At that meeting, through guided discussion, stakeholders helped to define variables that impact their bladders and QoL. Stakeholders helped select questionnaire banks to administer, tested electronic interfaces and provided feedback on flyers and pamphlets over the course of the study. To help promote enrollment, some patient stakeholders videotaped testimonials for the study's webpage. Going forward, patients and stakeholders from other disciplines will provide input about analytical focus and dissemination of results. These extra opinions in an already complicated multi-center study certainly add additional challenges — however, the hope is that this will ensure that the findings will be more patient-focused and help promote more shared decision making for NGB management.
Clinicians and researchers in urology are starting to better understand the benefit of patient-reported outcomes in research and clinical care. PCORI exists to advance these research methods. There are several proposal requests per year that include "pipeline" awards designed to help identify stakeholder partners and build research questions. For proposals, the first step is to align with PCORI national and cycle priorities (see www.pcori.org). Next, researchers should identify how proposed research can incorporate the following criteria specified by PCORI:
Actively engage patients and key stakeholders throughout the research process
Compare important clinical management options
Evaluate outcomes that are most important to patients
Address implementation of research findings in clinical care environments
Study populations often understudied in traditional research
PCORI also provides application training programs and webinars to help researchers navigate the nuances of its application process. PCORI-funded projects will benefit urology by enabling clinician-scientists and researchers to focus on those questions and outcomes that matter most to patients.
---
The AUA and the Urology Care Foundation Form a New Partnership with the Florida Urological Society to Support Research Training
This past May, the AUA and the Urology Care Foundation partnered with the Florida Urological Society to establish a Summer Medical Student Fellowship Award to support urologic research training for medical students within the state of Florida. This addition to the Foundation's existing partners brings the total number of medical student fellowships available for 2017 up to 14! This new Award will support one current or matriculating medical student per year for the next three years. According to Dr. Wade Sexton, president of the Florida Urological Society, "The Florida Urological Society is excited to support medical student education, research and exposure to careers involving the management of patients with disorders or tumors of the genitourinary system. This support is especially true given our aging population and the projected shortage of urology physicians in years to come. It is our hope that we, as a Society, can encourage the brightest of young minds to consider joining our profession through early exposure to some of the most esteemed urology researchers and mentors within our great state."
The AUA and the Urology Care Foundation strive to ensure the future of the urologic research workforce by partnering with other foundations, societies and industry to support young investigators with mentored research training. Recognizing the need to recruit outstanding individuals into urology research and foster their career success, the AUA and the Urology Care Foundation offer a portfolio of research training awards, beginning at the medical student level. The Summer Medical Student Fellowship Program was established in 2010 and provides a stipend to medical students as they undertake a ten-week research experience in a urology lab under the mentorship of an established urology researcher.
Since 2010, 46 students have completed the Summer Medical Student Fellowship Program with 12 more slated to begin this June. There have been two sponsors of the program to date. The Herbert Brendler, MD Research Fund was established by Dr. Charles Brendler and Mrs. Sarah Brendler in honor of the past-president of the AUA and former editor of the Journal of Urology®. The Brendler Fellowship is available to current and matriculating medical students at any institution within the geographic boundaries of the AUA sections. The Arkansas Urological Society sponsors medical students from the University of Arkansas for Medical Sciences College of Medicine.
The AUA and the Urology Care Foundation sincerely appreciate the support of the Florida Urological Society in enabling this new line of funding and impacting the future of urologic research. We hope to continue to grow the program through the support of other state and regional societies, philanthropic donors and industry support.
---

Grant Writing Tips: NIH Application Elements You Don't Want to Forget
While the Project Description or Research Plan is the major focus of any research grant application, there are additional elements to an NIH application that need careful consideration. The following elements need to be included in the grant application as appropriate. Unless stated, these elements do not influence the rating of the application; however, the reviewers are asked to comment on the adequacy of the information provided for each element. Therefore, any concerns the reviewers identify may negatively affect or postpone the granting of an award. Visit the NIH website for the full listing of additional elements and resources.
Bibliography and References Cited
Provide a bibliography of any references cited in the Research Plan. Be especially careful to follow scholarly practices in providing citations for source materials relied upon when preparing any section of the application.
Care and Use of Vertebrate Animals in Research
If you are planning to use live vertebrate animals in the project, you must adhere to the requirements in the Public Health Service (PHS) Policy on Humane Care and Use of Laboratory Animals.
Consultants and Collaborators
Attach appropriate letters from all consultants and collaborators confirming their roles in the project. For consultants, letters should include rate/charge for consulting services.
Facilities and Other Resources
This information is used to assess the capability of the organizational resources available to perform the effort proposed. Identify the facilities to be used (Laboratory, Animal, Computer, Office, Clinical and Other). If appropriate, indicate their capacities, pertinent capabilities, relative proximity and extent of availability to the project. Describe only those resources that are directly applicable to the proposed work.
Inclusion of Women, Minorities and Children in Research
Peer reviewers will also assess the adequacy of plans to include subjects from both genders, all racial and ethnic groups (and subgroups), and children, as appropriate, for the scientific goals of the research. Plans for the recruitment and retention of subjects will also be evaluated.
Multiple PD/PI
For applications designating multiple PDs/PIs, you must include a leadership plan.
Protection of Human Subjects from Research Risk
Applicants must assure NIH that all human subjects are protected. Reviewers will assess the potential risk to human subjects in proposed research and evaluate what protections are in place to guard against any research-related risk.
Resource Sharing Plan(s)
This section includes Data Sharing Plan, when applicable, and Sharing Model Organisms.
Select Agents
Identify any select agents to be used in the proposed research. Select agents are hazardous biological agents and toxins that HHS or USDA have identified as having the potential to pose a severe threat to public health and safety, to animal and plant health, or to animal and plant products.
Finally, prior to submission, look over these elements and the entire grant application one final time. Remember, you want a convincing proposal that is also formatted according to the application guidelines, punctuation error-free, clear to read and to the point.
The Multidisciplinary Approach to the Study of Chronic Pelvic Pain (MAPP) Research Network
The Multidisciplinary Approach to the Study of Chronic Pelvic Pain (MAPP) Research Network was initiated by the National Institute of Diabetes and Digestive and Kidney Diseases (NIDDK) in 2008 to investigate underlying mechanisms and clinical characteristics of urologic chronic pelvic pain syndrome (UCPPS), which includes interstitial cystitis/bladder pain syndrome and chronic prostatitis/chronic pelvic pain syndrome (for an overview see Clemens, et al BMC Urology. 2014. 14:57). Network investigators with diverse expertise employ a novel and highly collaborative integrated research approach that hypothesizes that UCPPS is a systemic disorder involving both urologic and non-urologic factors. The overarching goal is to provide new insights that inform future randomized trials and ultimately improve clinical management. The MAPP Network website provides additional information and lists network publications.
The first study, the Trans-MAPP (meaning across all network sites) Epidemiology/Phenotyping Study (EPS), characterized UCPPS patients at baseline and during a 12-month longitudinal follow-up (Landis, et al. BMC Urology. 2014. 14:58). Data collection is finished and data are now being analyzed for publication of initial findings. Extensive longitudinal self-report data on pain and urologic symptoms, non-urologic conditions, and varied psychosocial and functional items were gathered. In addition, neuroimaging data were collected at baseline and biological samples (e.g., urine samples for biomarker and microbiome studies, blood plasma, and check swab DNA) were obtained at baseline and during follow-up. The current study, the Trans-MAPP Symptom Patterns Study (SPS), began in 2015; recruitment and data collection are in progress. UCPPS patients are evaluated at baseline and during a 36-month longitudinal follow-up with expanded symptom measures, assessments of the central nervous system, and quantitative sensory testing and expanded bio-sample collection (e.g., urine samples for biomarker and microbiome studies, blood plasma and buffy coat for DNA isolation, and epithelial swabs for microbiome analyses).
All MAPP Network data, neuroscan images, and samples are being archived in the NIDDK Central Repository for future access by the broader community. Trans-MAPP EPS baseline clinical data and biosamples have been forwarded to the Repository and longitudinal data/samples and neuroimaging scan data will soon follow. Data and sample collection in the current Trans-MAPP SPS has recently begun and will ultimately be available, as well. Investigators interested in assessing these resources are encouraged to contact the NIDDK. In addition, the MAPP Network website (see "MAPP Network Data Collection") provides an extensive list of case-report-forms, specimens collected, and procedures. Investigators are encouraged to incorporate these in their study designs for future, collaborative data analyses.
The NIDDK and the MAPP Research Network also encourage development of research concepts for submission to the NIH as MAPP Network Ancillary Studies (e.g., R01s for standard NIH receipt dates). This provides the opportunity for integration of new investigators and studies into the MAPP Network and collaboration in study design and data collection and analysis. Interested investigators should contact the NIDDK or the MAPP Network for guidance early in the development of potential studies to discuss policy and the pre-application approvals process.
Such avenues of collaboration between the MAPP Network and the broader scientific community continue to expand and serve the shared goal of improving urologic health through research.
---
Cooperative Human Tissue Network (CHTN)
The Cooperative Human Tissue Network (CHTN) is a National Cancer Institute funded organization that prospectively collects, processes and distributes remnant surgical and autopsy biospecimens to IRB-reviewed investigators to promote basic and translational science using human biospecimens. The CHTN is comprised of six divisions, five that primarily provide adult biospecimens and one that provides pediatric biospecimens. The CHTN divisions are located at the following institutions: the University of Virginia, Vanderbilt University Medical Center, the University of Pennsylvania, The Ohio State University, The University of Alabama at Birmingham, and Nationwide Children's Hospital. As a prospective service rather than a biobank, the CHTN functions through a shared networking system that allows investigators fresh and specified sample preparations as well as timely access to research specimens. A variety of preparation and preservation techniques are available to ensure that investigators receive quality specimens according to their research needs. Investigators can request normal, benign, malignant, or diseased samples and fresh, frozen or fixed including aliquots of biofluid (i.e., serum, plasma, buffy coat, urine, saliva), paraffin blocks and/or slides.
Investigators must complete the CHTN application detailing the types of tissue and preparation of specimens needed. Although the CHTN operates as a network, each division is responsible for primary coordination and intake of applications from investigators based upon the investigators' geographic locations as indicated on the website. The CHTN then attempts to identify and process specimens for the investigators, meeting their specific requirements. Some of the CHTN divisions do, however, store or bank tissue specimens received that are in excess of current investigator requirements. For example, the Pediatric Division stores kidney biopsies, including frozen and matching FFPE tissues samples, many of which are annotated with the results of electron microscopy and/or immunofluorescence studies representing a variety of glomerular diseases. The CHTN has access to extensive numbers of urological cancers and control tissues. These include cancers and matching uninvolved tissue of the bladder, kidney, adrenal glands and prostate. Less common tissues such as penile and ureteral cancers, as well as a prostate cancer tumor progression tissue microarray constructed from epithelium representing the stages of tumor progression in prostate adenocarcinoma, are also available.
All of the actual specimens provided for research undergo quality control (QC), which specifies the proportion of cancer in the specimen and, of the cancer, the percent of malignant cells, necrosis, fibrosis and mucin. Each sample is provided with the donor's age, race and gender as well as the QC analysis of the specimen. When available, additional information (excluding the 18 HIPAA identifiers) can be provided for an additional fee via a review of the patient's medical record.
For information on the CHTN processing fees or general information on obtaining human biospecimens from the CHTN, visit www.chtn.org. Specific questions can be addressed to Nicole Bollinger, CHTN Central Coordinator, at nbollinger@chtn.org.
Research and Patient Advocacy

AUA Continues to Protect Urologic/Cancer Research Funding
The AUA is committed to working with advocacy and coalition partners, such as the Defense Health Research Consortium, in order to protect federal funding for urologic research. These ongoing efforts recently resulted in a critical victory for the medical research programs administered through the Department of Defense's (DoD) Congressionally Directed Medical Research Programs (CDMRPs).
In mid-May 2016, the research advocacy community became aware of two provisions (Sections 756 and 898) in the proposed National Defense Authorization Act (NDAA) for Fiscal Year 2017 (S. 2943) that would put critical funding for biomedical research at great risk by restricting CDMRPs funding to only research directly relevant to Armed Forces members, rather than including veterans and military beneficiaries. For over twenty years, the CDMRPs have supported research to benefit both the military community and the American public, and have been the second largest U.S. funders for research on prostate, breast, and ovarian cancers, among other cancers (such as kidney and bladder) and conditions.
The AUA, together with 142 organizations in the healthcare community, some of which being fellow members of the Defense Health Research Consortium, submitted a letter in strong opposition to the two provisions. Moreover, upon learning of a bipartisan amendment to strike the provisions, the AUA Research Advocacy Committee worked with AUA Government Relations and Advocacy Department, AUA President Dr. Richard Babayan, and their own Senate representatives to support the amendment. Due to these and other efforts, Senate leaders took decisive action by passing the amendment by a vote of 66 to 32 on June 7 and preserving indispensable research funding for urologic cancers and conditions and other diseases.
"The passage of this amendment, crafted by Richard Durbin (D- IL), was a big win for the urologic research community," said AUA Research Council Chair Dr. Aria Olumi. "Senators from multiple states heard their concerns and made sure that the vital urologic research that impacts so many patients, including patients with prostate, bladder and kidney cancer, continues to be funded."
CDMRPs play a unique role in the medical research community, investing in high-risk, high-reward research grants through a peer-review system that incorporates feedback from patient advocates. The initiatives under the CDMRPs are critical to advancing our understanding of a variety of health issues and have a proven track record of contributing to major medical breakthroughs.
While a majority of current legislators do support these programs, it is imperative that proponents continue to tout research successes and explain how these grants are relevant to the military community (e.g., the grants support the study of diseases that occur in higher numbers among veterans, such as bladder cancer). The AUA will continue to communicate with lawmakers on the many benefits of medical research initiatives funded through the CDMRPs. This exercise can only pay dividends down the road, particularly given the challenging fiscal environment that remains in Congress.
The promotion of urologic/cancer research funding remains a top legislative priority for the AUA in fiscal year 2017. If you have questions regarding this or any other of the AUA's ongoing advocacy efforts, please call the Government Relations & Advocacy Department at 202-403-8500 or email GovernmentRelations@AUAnet.org.
---
Building a Foundation for Research Advocacy – Bladder Health Alliance
Promoting bladder health has long been a priority of the Urology Care Foundation — the official foundation of the AUA — and the various patient groups with whom the Foundation works. Since 2013, the AUA and the Urology Care Foundation have been working with the Bladder Health Alliance (formerly OAB Roundtable) to raise patient and public awareness about bladder health and disease. In an effort to facilitate this awareness, the Bladder Health Alliance partnered with the Foundation to establish November 2016 as "National Bladder Health Month." This past April, House Resolution 703 supporting this designation was formally introduced in the U.S. House of Representatives by Congressman Eliot Engel (D-NY-16).
This is a critical step in building the necessary momentum for bladder health research advocacy. Federal recognition will be tremendously helpful in raising awareness about bladder health and legitimizes it as a national priority for further education and research.
Moving forward, the AUA will be ramping up efforts to collect as many co-sponsors of the resolution as possible, which includes the continuation of meetings with dozens of congressional offices on Capitol Hill and grassroots mobilization. The AUA will also work with each of the patient groups representing the Bladder Health Alliance to facilitate communication between House members and their respective constituent groups.
The Bladder Health Alliance comprises the following organizations:
| | |
| --- | --- |
| | Women's Health Foundation |
If you have questions regarding this or any other of the AUA's ongoing advocacy efforts, please call the Government Relations & Advocacy Department at 202-403-8500 or email GovernmentRelations@AUAnet.org.
2016 Ferring Innovations Grants Program
The Ferring Research Institute is interested in funding exploratory, discovery and preclinical research into novel extracellular drug targets that are addressable with peptides and/or proteins for indications within the following core therapeutic areas: reproductive health, urology, gastroenterology and endocrinology. Pre-applications are required and will be accepted beginning June 13, 2016. Learn more!
Calendar of Research Events
| | |
| --- | --- |
| Jul 16-17 | AUA Headquarters | Linthicum, MD |
---
| | |
| --- | --- |
| Sep 9-11 | Fairmont Dallas | Dallas, TX |
---
| | |
| --- | --- |
| Sep 16 – 18 | Westin Copley Hotel | Boston, MA |
---
| | |
| --- | --- |
| Sep 18-19 | University of Michigan | Ann Arbor, Michigan |
---
| | |
| --- | --- |
| Sep 25-28 | The Westin | Fort Lauderdale, FL |
---
| | |
| --- | --- |
| Sep 26-28 | Clark Atlanta Univserity | Atlanta, GA |
---
| | |
| --- | --- |
| Oct 16-18 | Bethesda North Marriott Hotel | Bethesda, MD |
Opportunities in Urologic Research
We encourage the submission of employment opportunities in urologic research — trainees and faculty only — to be posted in our next issue, which will be released in March 2016. Submission is no guarantee of publication. Please contact the AUA Office of Research with any questions.
---
Eureka!
Eureka! is a bi-monthly email newsletter that contains urology research news, funding opportunities and updates from the AUA Office of Research. View the most recent issue!
---
Want to Support Research?
You can make a difference by making a tax-deductible gift to the Urology Care Foundation.
---
Join the AUA
Whether you are conducting research or trying to stay up-to-date on the latest breakthroughs, membership in the AUA provides the tools and resources to support your professional mission. Membership categories specifically designed for researchers are available. Learn more about becoming a member today.
---
Did We Miss Something?
If you have any suggestions for urologic research-related content or are interested in contributing information from your own organization or institution, please contact us.